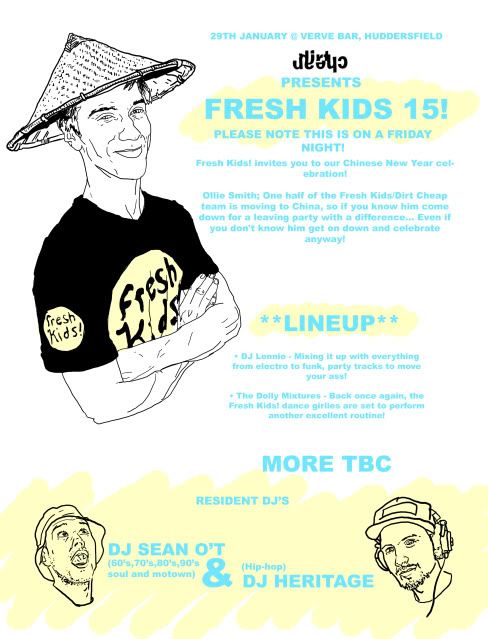 Start Time:
Friday, January 29, 2010 at 8:30pm
End Time:
Saturday, January 30, 2010 at 2:00am
Location:
Verve, 3 Byram Street, Huddersfield
PLEASE NOTE THIS IS ON A FRIDAY NIGHT! SO NO EXCUSES FOR NOT BEING THERE, LET'S GET MESSY!
Fresh Kids! invites you to our Chinese New Year celebration!
Ollie Smith; One half of the Fresh Kids/Dirt Cheap team is moving to China, so if you know him come down for a leaving party with a difference… Even if you don't know him get on down and celebrate anyway!
—————————————————————————
**LINEUP**
• DJ Heritage – the official Fresh Kids! resident dropping yet another set of classics and new skool bangers.
• DJ Sean O.T. – Bringing you the best sounds from the 60′s to now, Something for every taste!
• DJ Lennie – Mixing it up with everything from electro to funk, party tracks to move your ass!
• The Dolly Mixtures – Back once again, the Fresh Kids! dance girlies are set to perform another excellent routine!
MORE TBC
—————————————————————————–
• First up, we have new boards and pens for all yall to get fresh on!
• Remember all boards are up for sale, if you like one, or want to buy the one you've created then a small donation is all you need.
• Visuals, Music and Art.
—————————————————————————–
Our friends over at Coffeevolution are running their live art night 'Any Which Way' on the same night!!
There's no competition though so don't worry, we're both right next to each other and both FREE, so why not pop down to both nights? For a full on evening of dancing, art, music and booze!